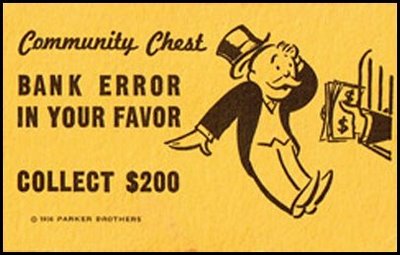 Is it ethical to pocket money from a bank error in your favor?
Is it ethical to take advantage of affirmative action if you are opposed to it?
Is it ethical to file for tax credit incentives for home improvement projects when you don't think the government should be raising taxes on everyone to give the money to those who can afford solar panels?
Is it ethical to win money from recreational gambling when that money comes from those addicted to gambling?
While it was always fun to get this card from Community Chest, the ethical questions are real.
Or do I just have an overactive conscience?