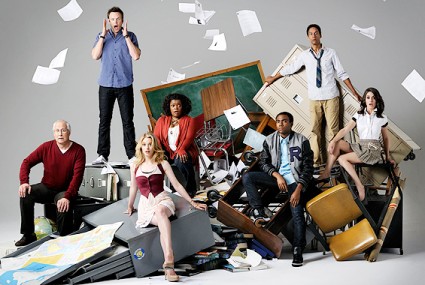 The universal story, the monomyth, that exists in every human psyche, is Dan Harmon's tool for mapping out nearly every aspect of the NBC TV show Community. Harmon has distilled the monomyth into a handy guide for tv writers.
I wonder – is it because of our cultural lack of mythology and/or because of our secularism (a denial of every claim of a real myth), that we have to deconstruct and bullet-point what a story is?
Here's an excerpt of a very interesting article about Harmon, creator of Community, with multiple charts displaying the Monomyth in various levels of detail.
The circles are everywhere, if you know to look for them. They're on the whiteboards around Dan Harmon's office, on sheets tacked to his walls, on a notepad on the floor of his car. Each one is hand-drawn and divided into quadrants with scribbled notes and numbers sprouting along the edges. They look like little targets.

Harmon, 38, is the creator of Community, a sitcom about a group of community-college study buddies and the most giddily experimental show on network TV. He began doodling the circles in the late '90s, while stuck on a screenplay. He wanted to codify the storytelling process—to find the hidden structure powering the movies and TV shows, even songs, he'd been absorbing since he was a kid. "I was thinking, there must be some symmetry to this," he says of how stories are told. "Some simplicity." So he watched a lot of Die Hard, boiled down a lot of Joseph Campbell, and came up with the circle, an algorithm that distills a narrative into eight steps:

1. A character is in a zone of comfort

2. But they want something
3. They enter an unfamiliar situation
4. Adapt to it

5. Get what they wanted
6. Pay a heavy price for it
7. Then return to their familiar situation
8. Having changed

Harmon calls his circles embryos—they contain all the elements needed for a satisfying story—and he uses them to map out nearly every turn on Community, from throwaway gags to entire seasons. If a plot doesn't follow these steps, the embryo is invalid, and he starts over. To this day, Harmon still studies each film and TV show he watches, searching for his algorithm underneath, checking to see if the theory is airtight. "I can't not see that circle," he says. "It's tattooed on my brain."